Narada Power Hubei New Energy Research Co., Ltd. (referred to as "Hubei Research Institute") officially passed the accreditation of China National Accreditation Service for Conformity Assessment (CNAS) and won the CNAS laboratory accreditation certificate (registration number: CNAS L 17349).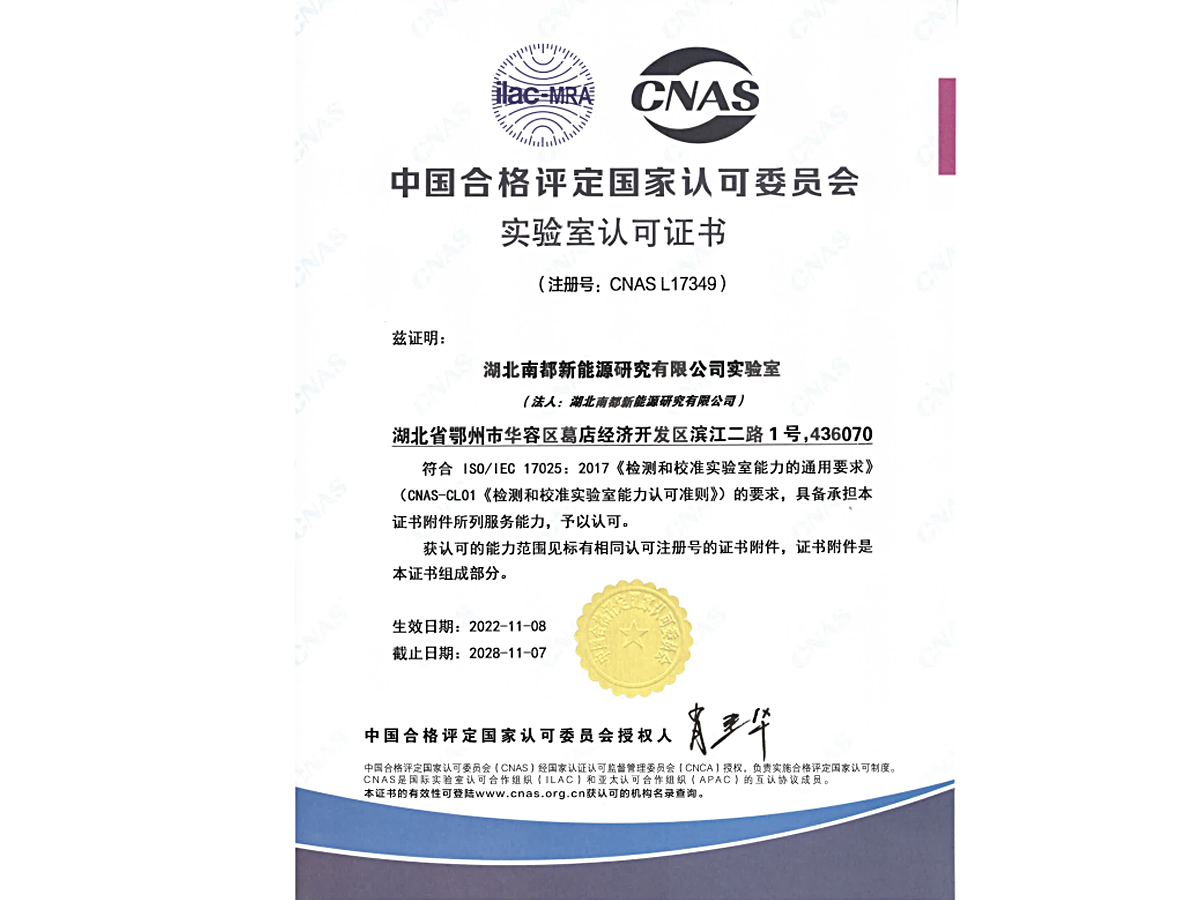 With long accreditation time and high standards, CNAS is the only and most authoritative laboratory assessment institution in China. Passing the CNAS laboratory certification means that the test reports issued by Hubei Research Institute based on the scope of the accredited testing capabilities is able to use the CNAS accreditation mark, the international mutual recognition joint mark, and will be recognized by international organizations over 100 countries and regions around the world.
On-site review is carried out including document review, routine test, reserved sample retest, blind sample test and on-site demonstration. After two days of on-site audit, our management system operation status and testing capabilities have gained unanimously recognition from the reviewers.
Narada Power insists on driving enterprise development with technological innovation. As an industry leader, we have accumulated years of technology, led and promoted the development of the energy storage industry, and presided over the compilation of more than 50 national, industry, and group standards.
In addition, we have jointly established a research and development platform with universities and scientific research institutions, and continue to carry out forward-looking and basic researches. We have cooperated with Zhejiang University to carry out solid-state battery research and development projects, built a new energy storage discipline with Xi'an Jiaotong University, worked with Central South University to conduct material research, and participated in Xinyuan Power Company, a subsidiary of the Chinese Academy of Sciences, to lay out the fuel cell industry.
In the future, we will further build an integrated layout of the energy storage industry by aiming at high-tech, key core technologies in frontier fields to provide impetus for the sustainable development of the company.