Zhejiang Digital Economy High Quality Development Conference was held in Hangzhou, and the Conference awarded the advanced units. As one of the key enterprises in the development of digital economy in Zhejiang Province, Narada Power was awarded as "National Top 100 Electronic Information Enterprises for three consecutive years in Zhejiang Province". Mr.Zhu Baoyi, chairman and president of Narada Power, accepted the award.
Mr.Yuan Jiajun, secretary of Zhejiang Provincial Party Committee, emphasized the importance of digital economy by saying digital economy is a new economic form and we should deepen the national digital innovation and development to speed up the construction of digital economy as the core of modern economy.
In recent years, Narada Power has seized the development opportunities of digital economy and built a fully closed-loop industrial chain of smart energy storage, whose products and system solutions fully serve the market fields of new electric energy storage and industrial energy storage.
At the same time, Narada Power continues to vigorously promote digital production, R&D, and management, which has built energy management (EMS), smart energy storage cloud (RMS), battery management (BMS). We focus on energy storage system integration and make our contributions to global energy storage development.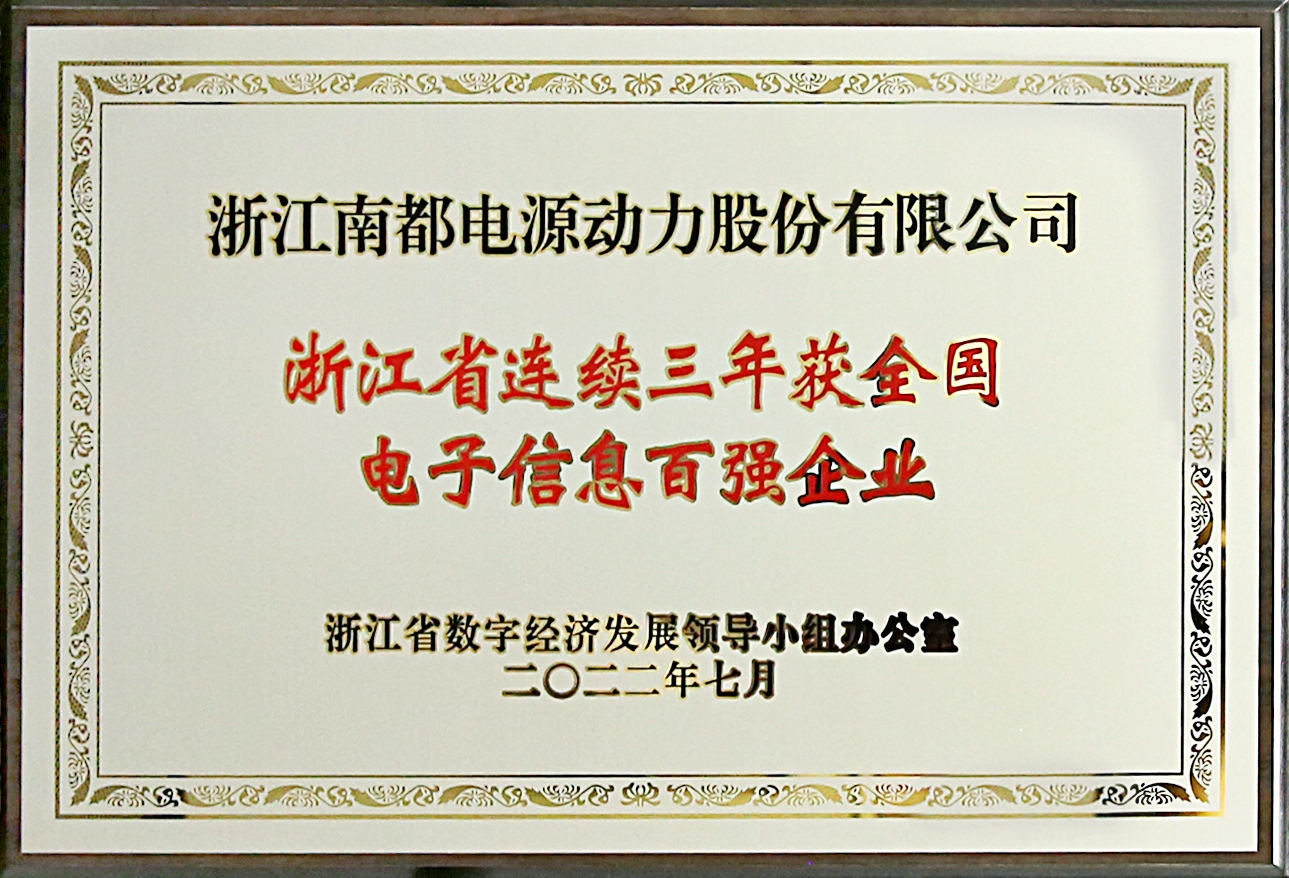 China Top 100 Electronic Information Enterprises releasing activity is an authoritative event provided by Ministry of Industry and Information Technology to fully evaluate enterprises from overall scale, efficiency level, R&D innovation, international competitiveness, transformation and upgrading, economic and social contribution and other aspects.
Narada Power has been selected into the list for many years, which reflects our comprehensive strength, and is also the full affirmation from the industry and the market. Narada Power will continue to seize the opportunities driven by digital industrialization to build a beneficial energy storage industry ecosystem for all parties, and contribute to the global "carbon peaking and carbon neutrality" strategy.