Currently, we are facing major difficulties in daily maintenance of energy storage stations due to stations are geographically dispersed, such as low maintenance efficiencies, long time, high cost, and safety concerns. How to realize centralized control, early warning for making a good decision?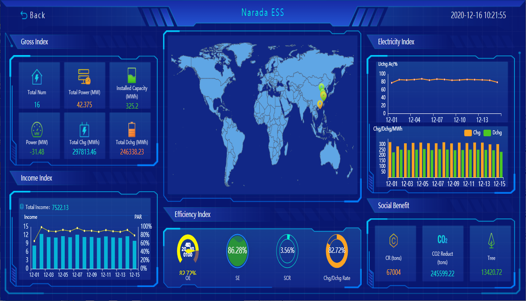 Narada Power has developed eCloud smart energy storage platform. Through cloud computing, big data analysis and other technologies, platform is able to conduct centralized remote monitoring and smart analysis, enabling power stations to operate intelligently.
At present, eCloud is designed with operational analysis and monitoring, fault alarm, smart diagnosis and remote maintenance. It will display sites situations by generating reports and charts for reference, and provide digital and visualized management to ensure the safety, stability, and high efficiency of the power station operation.
eCloud is able to conduct 24/7 monitoring services, analyze huge amount of data, track and identify the hidden dangers of equipment, timely issue a notice, and safeguard sites running. Once a fault occurs, the platform will accurately locate the fault and send warning messages via SMS, email or App, implementing the closed-loop management.
eCloud also can be checked on the phone. When you open the App, the device status and warning information will display on the "network". The basic information and operation management of each power station will be seen in one screen. "If you want to know the operation status of the station, there is no need to go to the site. You just have to check your mobile phone, which is easier for daily inspection." Mr. Tan Jianguo, director of operation and maintenance center introduced.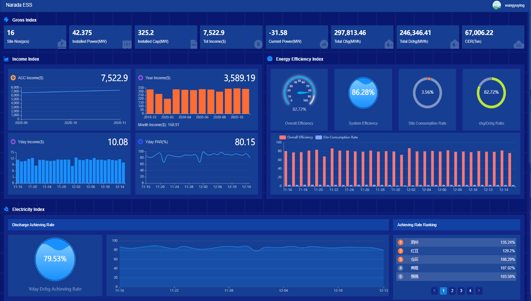 The implementation of eCloud reduces the equipment failure rate to 2‰, improves service response speed up to less 2 hours, rises the active service rate to 99%, and cuts down the cost of maintenance fee greatly.
Narada Power has established the operation and maintenance system named as "1+2+4" (one center, two platforms and four regions). In addition to building two network platforms of cloud platform and video platform, we have formed a three-dimensional system with Hangzhou centered, and Zhenjiang, Wuxi, Beijing and Guangzhou as the sub-centers to ensure safer and more reliable operation and maintenance services for our customers.